Andrea Mazzanti born in Florence, on 29-07-1956, in a family that has worked in fashion industry from generations, as a distributor and salses consultant, with top level classical clothing companies, one example is Corneliani. In 1983 Andrea opened his first clothes shop in the center of Florence. After that first and well managed opening Andrea followed in 1985 opening two other shops in the same downtown area of Florence.
In 1990 Andrea Mazzanti opens in partnership with Remo Ruffini (President of Moncler) a chain of stores called "The Store" with sales point in Firenze, Forte dei Marmi, Portofino, Capri and Arezzo.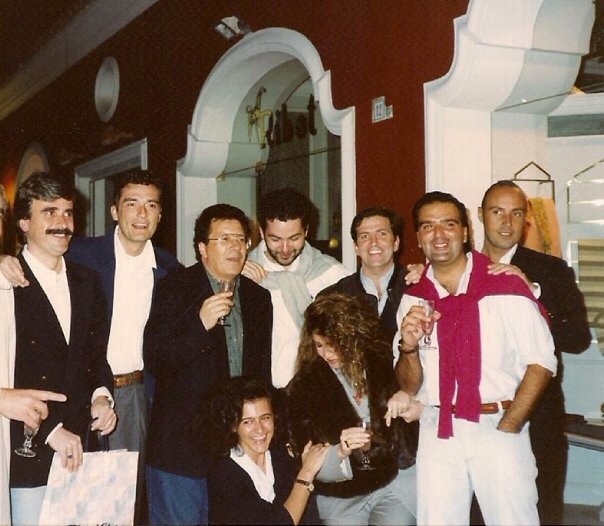 Opening "The Store" in Capri, Andrea Mazzanti (Second from left), Peppino di Capri (Third from left), Remo Ruffini (Fourth from left)
Andrea began his creative ability with the first company he did consulting work with, Brooksfield (1996-1997), immediatly he was noted for his innovation and creative ability to develop a specific style. In the 20 years working together with the founder of Brooksfield, Marco Massaglia, that Andrea elaborates and increases his knowledge in the fashion industry, how to work and create a collection, in addiction to cure aesthetically in the specific in line with the right market.
Successfully Andrea is assigned to manage the collection for DAKS (1998-2002) for the United States, and eventually for 4 years worked with the company ad designer and supervisor along with managing the distribution of the company.
During this time period Andrea also worked with the company Pal Zileri (2000-2003) managing the style for United States and responsible for the new project International style. He also carried on with the sports wear collection of "Peter Hadley" (2000-2003) and with New England (2001-2003), manufactured Stefanel Group. In 2004 Remo Ruffini entrust Andrea to manage the brand Cerruti 1881. In the same year Andrea began working with the company Lebole, collaborating with them up until 2010. In 2004 Andrea began working with Aspesi, where he has been managing knitwear up until today. Loro Piana is another company that Andrea continues to work with as the only consultant outside of the company and helps direct the style for the coats, jackets, pants, shirts and knitwear for the men collection.
Thanks to many years of experience in the distribution world Andrea has been able to combine the right style for the taste of today's market.
In 2006 the company Facis gives Andrea ull responsibilty of style up until 2011. In 2011 Andrea becomes a consultant for Johnny Lambs and the company La Martina up until 2013. The "Collection Privata" for La Martina was created and designed by Andrea Mazzanti.
Meanwhile Andrea follows the rebirth of Camplin where, after historical research about style and materials used, he rebuilt the old 1900 brand identity but with an actual and renewed style.
From 2012 to 2014 Andrea Mazzanti works with the company Massimo Dutti where he creates 10 full look, under the special label of "5th Avenue".
Thanks to his experience and knowledge in the fashion field Andrea Mazzanti had always been steps ahead both in the classical and in sportwear world.
Up until today Andrea is the owner of Aspesi stores in the center of Florence and a member of IACDE (International Association of Clothes Designers and Executive), an élite of 150 members in the world.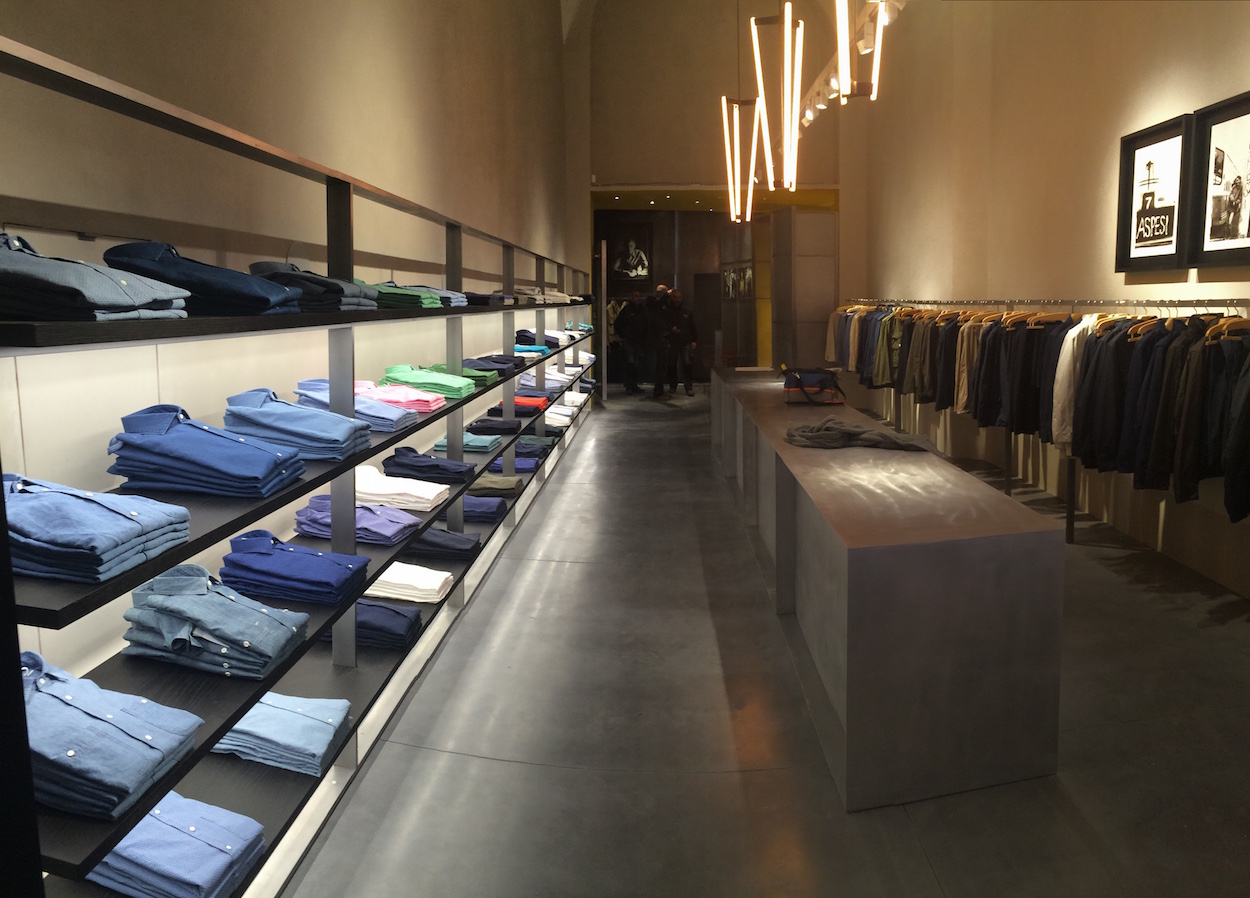 Negozio Aspesi uomo a Firenze
A special thanks from Andrea to Marco Massaglia and to Sergio Loro Piana, to Alberto Aspesi and to Remo Ruffini whom, with all the works developed together, transmitted the know how and the extraordinary experience in fashion style that can only be learned while working with people of their caliber.